The Boston Career Form is just around the corner. For those of you that don't know, it is THE biggest job fair for English-Japanese bilinguals in the world. As well as Boston, the same company also holds career fairs in London and here in Tokyo too (albeit smaller in scale). Here at WIJ we all found our first full time job for Japan at these Career Forums and they should be a major date on your calendar for anyone seriously considering working here in Japan.
So today we have a special post by Jamie Rhodes. Jamie met his company at the Boston Career Form and had successful interviews with many of the other companies he applied to. Essentially he totally kicked ass at the forum.
Below is an extremely useful and informative article about his own experience at the fair, as well as advice and tips on how he succeeded. Enjoy!
********************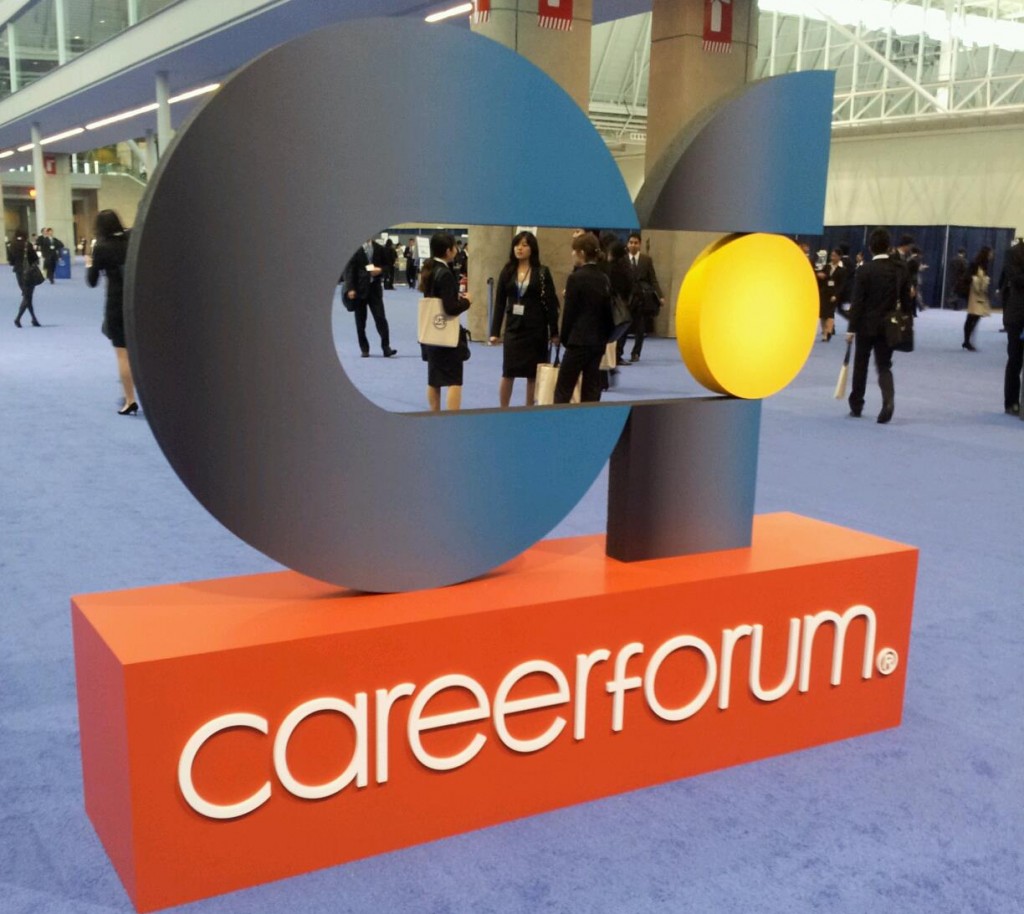 I found out about my own job through the website careerforum.net, for Japanese-English bilinguals. More specifically by applying to them through one of the annual job fairs they hold. The application process (I applied to around 20 companies) is all dealt with online through a portal site of the event. Here you upload your CV, answer questions sent by companies, and receive replies/invitations to interviews. I found this a really excellent way of organizing my job hunting and reaching/researching companies who would be at the event.
My experience at the job fair was amazing. The event hall was vast and there were so many booths and companies which you could walk around and hear seminars/ talk directly to staff/ hand in your CV etc. On top of that, I had already had interviews scheduled with around seven companies prior to the event, with two of them (including the one I will be working at) leading on to final interviews in Japan. The fact I could actually talk one-on-one to people at the company and get a sense of how the company is, was really helpful and something that you just cannot get over the internet. I also got invited out to dinner by two of the companies after the event ended on two of the days and got treated to lobster!
(You could call this getting invited out to dinner a cemented "tradition" of the forum and it is a clear sign that the company is interested in you. Not only do they want to speak to you in a more informal setting, there will be other students (sometimes up to ten or more) and they will be looking at how you can interact during a social drink – a HUGE part of working in Japan)
I feel it was a gamble for me to go to Boston, but one which really paid off in the long run. I really recommend it for those confident in their Japanese speaking and willing to put a lot of work in (there was a considerable amount of questions/ preparation before going to Boston). However, the London and Tokyo career forum I have heard are also really good and would urge as many people as possible to attend.
After I received a job offer from the company, I was invited along to meet with two members of personnel, who I had met in Boston, in Osaka. There they told me about some of the things which they were looking for in me and what they wanted me to achieve. From experiences with other companies, I also believe the following are being sought by Japanese companies looking to recruit foreign students.
To bring a new "wind" into the company. To challenge existing ideas held by the company and give a fresh "international" perspective to things.

Push forward globalization of the company in English speaking countries.

Contribute to a diversification of the workplace, from one of mainly Japanese men to one containing more female and foreign staff.
In terms of how I "sold" myself, I usually went with the following lines in all the interviews. (Following tips are equally applicable to interviews with non-Japanese companies too):
Proven record of operating in a Japanese-only environment – I talked of how I have been involved in various activities (Volunteering, University Society) as the only non-Japanese and how it may have been hard at first, but I got through it and operated as a member of the team in a productive way.
Use creativity as a way to solve problems – I mentioned how I have used new ideas etc. during my time at University to solve various problems (I think Japanese companies think creativity is lacking in some Japanese employees).
Can learn new things thoroughly, in relative short period of time – This one worked really well I think and is something all students can make use of. When I mentioned the workload associated with the course and the fact I had next to no Japanese knowledge before starting they were very impressed.
Can work under pressure – very important when working in a Japanese company!
Have a real passion in contributing to globalization/ the company – The one thing I was told various times was how passionate I seemed to be and how that came across very well during the interviews.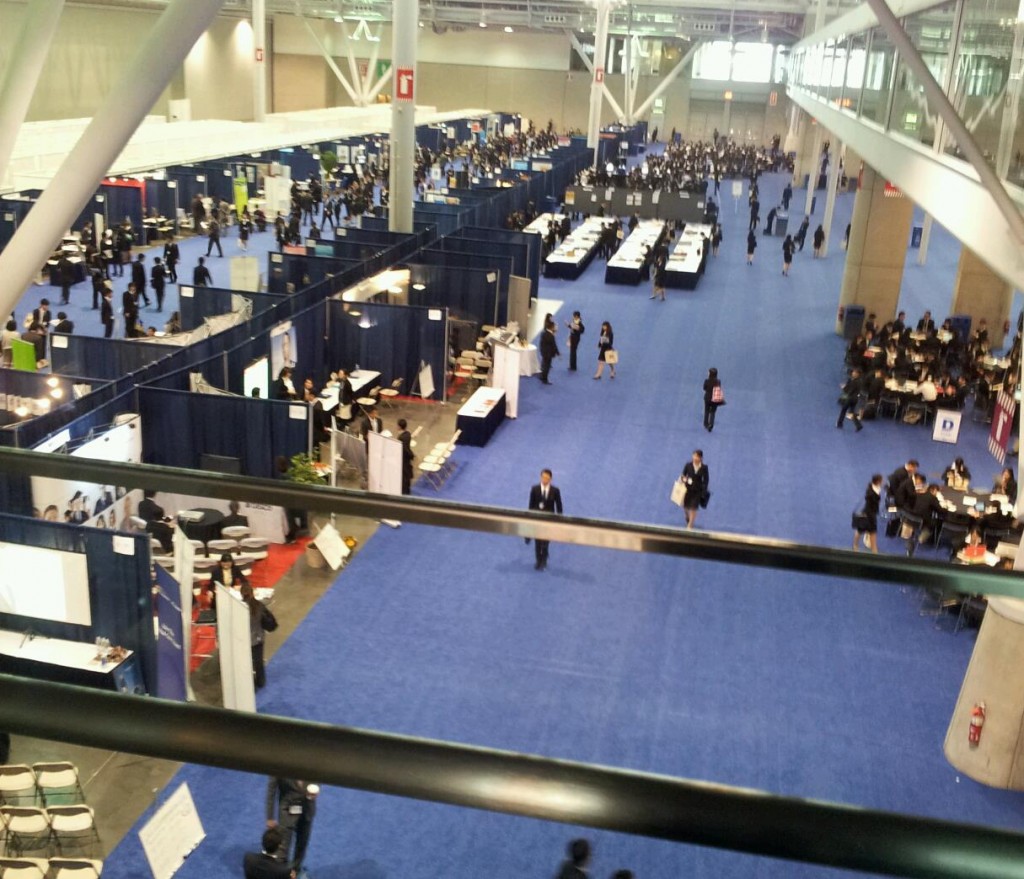 The exhibition hall where company presentations etc. are taken place
Questions I was asked regularly:
Can you really work in Japan and for a long period of time at our company?

Will you parents/family not be sad that you will be in Japan?

Why did you choose a Japanese company and not a foreign one?

Are you sure you can work in a Japanese company?
To anyone who is considering working in Japan at a Japanese company there are a few things which I would recommend in general before starting:
Research, Research, Research – Don't go in with no knowledge of the company – they will see it right away and won't give you a second chance. Also make sure your research is focused. I made the mistake of being too general and applying too many companies in different industries. You should narrow down the industries (1 or 2) you have an interest in and apply to companies within that field. It will make research much easier and efficient as information such as competitor or key topics in the industry etc. will be the same for each company.
Find something you are passionate about – As I mentioned above, if a company sees that you have a real passion they will take a real interest. Also, as you will be working at the company (possibly) for a longer period that a Western one, it's important you find a job/industry you have some interest for. Almost all Japanese companies will spend a considerable amount of time and money training you. That is why it is important to do something you WANT to do and not what you think is the best match for your CV.
Don't be afraid of mistakes – All the interviews I made real mistakes in, I passed. The ones which I thought went really well, I failed. I do not know why, but I think it may be due to the fact they actually saw the "real" me and not the airbrushed, textbook answer version.
Emphasis that you can 'fit in' when necessary – While companies do want international people to bring a new way perspective and way of think to the company, I think they also want to know that you are willing to make an effort to 'fit in'. That you are not going to be some rouge who won't take orders and general disrupt the the wa (harmony) in the office or company.
Use the fact that you are non-Japanese to your advantage – 90% of the people at the forum in my case were Japanese. So if you are non-Japanese you are going to stand out. Use this to your advantage. When you attend the Setsumeikai (company presentations) take your notes in Japanese and use Kanji. Many companies mentioned in the interviews that they had noticed that I was taking notes in Japanese and were very impressed. I would also refer to these notes before the interview and ask them about any key points that were brought up. This showed that I was paying attention during the presentation and had an interest in the company. Basically, go out of your way to show that you are writing in Japanese – (If you love in Japan, you will know who even writing 犬 (dog) can elicit an almost euphoric-oh-my-god-this-gaijin-can-write-our-language-type sugooooiiiii,majii!! (oh my god!).
Take a cell phone – Make sure that you take a cell phone with you when you go, and that companies know your contact details. In my case, as I came from the UK and did not have an American cell phone, I bought one from 7/11 for a relatively cheap price. You WILL be contacted by companies afterwards to go for dinner if you have been successful, which, like I touched on above, is an invaluable opportunity to sell yourself more and get a feeling for the kind of people that work at the company. Plus you get free food!
Overall I am very happy that I got the chance to work at a Japanese company. Of cause there are difficult times and there can be a lot of work sometimes, but there are many great aspects too. I especially love the sense of security you feel and how Japanese companies are willing to invest so much time and money into you. Even after just a few weeks you will feel very much part of the 'family'. They are also very supportive financially. Not only do most large to midsize companies have a dormitory that you can live in and literally save 10,000s yen of rent per month, but when going on business trips they also provide extra money for preparation and food etc. When money is concerned I think most Japanese companies don't think 'what is cheapest for the company' but 'what is best for the employee', and that is very reassuring.
I wish everyone the best success at the Boston Career Form and to everyone who is looking to work here in Japan!