Curry was first introduced into Japan by the English (who would have guessed it eh!) in 1859, which was during the Meji period (1868-1912) and when England colonized India. At the time, English sailors liked to eat stew but due to milk (used for seasoning apparently) not being able to keep over long journeys they used curry spice instead. Making some kind of awesome curry-stew that had meat, carrots, potatoes etc. and seasoned with curry powder.Mountains Photo
On land the first mention of curry in Japan was in a book called seiyouryourishinan (A Guide Book to Western Cuisine) which introduced how to make an interesting variation of the curry that was introduced by the English sailors, containing frog and spring onion (yummy). At the time the English used curry powder such as the one made by Crosse & Blackwell, but being an imported product for those in Japan it was often too expensive for the average person to buy during the Meji period.
It was especially after the war however, around 1950, when there was the biggest development for Japanese curry. The curry roux was invented. Apparently inspired by chocolate bars, the curry roux is like a 'mini block' of curry containing all the necessary spices to make a mighty fine curry. All that is needed is water and the gu (ingredients). Speaking of which, as mentioned before the Japanese curry was originally based on the stew like curry that the Brits brought over, and so the Japanese curry had a lot of vegetables. Key vegetables being, onion, carrots and potatoes, which were all produced in Hokkaidao (Japan's most north island), the government actively supporting the use of the domestic vegetable in the curry.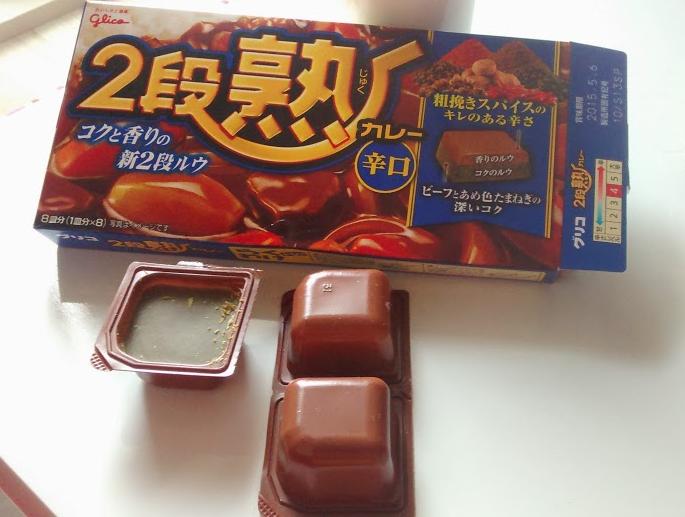 Today curry is eaten everywhere and often thought to be the most loved dish here. According to this website by one of Japan's biggest curry makers, based on research by the government (Japanese governments do some bad ass research!) around 14.878 tonnes of curry powder was produced in 2012 which amounts for around 9.9 billion plates of curry! Divided by the population of Japan, then this amounts to 77.5 plates of curry per year per person, more than once a week.
Nowadays in Japan you you have curry bread, curry rice, curry udon, curry everything. A big debate among the curry lovers out there being do you mix your rice or not. An entire article was written about this subject by a website called rocket news 24. I have had the debate myself a few time with Japanese students when I was in university (happy times!) For those that are curious, I am a mixer myself. There is even a curry research center which has around 10 'researchers' whose job it is to of course, research about curry! Amazing.
For those of you that are still determined that 'curry' rice isn't a Japanese dish, then lets take another last look at curry 101. It may come to surprise those who are uneducated in the ways of the curry (what have you done with your life?!) that in India there isn't actually a dish called 'curry'. In fact, stealing the quote used by wikipedia from Collingham, Lizzie. Curry: A Tale of Cooks and Conquerors:
In other words, you won't really find just a 'curry' in India. Pretty wild eh.
While curry might not be Japan's oldest dish, the name is written in the foreign scripts katakana and was originally based on what the English brought over, I think it is fair to say that today it is very much a distinct and unique Japanese dish. No doubt overlooked by many visitors when they come to Japan, it is eaten and loved by thousands of Japanese citizens. So next time you think of the definitive Japanese foods, as well as sushi, ramen and tempura, please don't forget to include curry too!
Crazy about Japanese curry too? Let me know in the comments!
PREDICTION vs. New England: Tom Brady is back and on a mission, the
cheap ray bans
only way the Bengals pull this one out is to keep that man on the sideline for as long as possible. Expect a big day from Gronk and Bennett as Tom
www.foakleysaaaa.com/home/fake-oakley-sunglasses-sale/
Brady just picks apart that Cincinnati
cheap football jerseys
secondary. Bengals 10
cheap jerseys wholesale
Patriots 35Leigh Anne's toughness comes through in more believable and more humorous ways in the rest of the film. During a football practice, in which Oher's timid blocking on the offensive line exasperates his coach, Leigh Anne marches onto the field and, as she passes the baffled coach, informs him that he can thank her later. She then pulls Mike aside and explains to him that his teammates are family; in the same way that he
http://www.cheapnfljerseyssu.com
would protect his new off field family, he needs to devote himself to clearing the way for his on field family. As she leaves the field, she tells the coach that
Wholesale NFL Jerseys
he needs to know his players better. It turns out that Oher, well below average in standard measures of cognition, scores very high in protective instincts.Apparently the venture plan making educational movies and, of course, going on exhibitions to find the elusive animal. Both financial gurus and members of the bigfoot community because that exists are skeptical about the start up but, hey, if you're the type of person who enjoys taking big hairy risks, this could be the investment for you. I understand that some have indicated to me that the word "N" does not imply white people regardless of the situation. But we can also say that the word "N" does not imply black people as well. We have become associated with the word because it was assigned to us just like a parent can name their child Victor.The trophy value of every sweepstake race has been increased by Rs. 20,000, for the The Hindu Deccan Derby and the President Of India Gold Cup by Rs. 30,000, Category I by Rs. 15,000, Category II by Rs. 10,000 and Category III by Rs. 7,500. The total stake money for all the races has registered a 5.5 % jump over last year.2. Alterraun Verner CB Tampa Bay Buccaneers [4 Years $25.5M] This is a player that has good skills
NFL Jerseys China
that fit Lovie Smith's defensive system. Adding Verner to a secondary that already features quality safeties will allow the former Tennessee Titan to play to his potential. Although he may not be as good a corner as a healthy Darrelle Revis, because of the requirements of Lovie's system, the Bucs were able to address a number of positions by spreading the money earmarked to Revis ($16M Per Year) around while still landing a corner in Verner that will allow them to play solid defense.