How to do Research on a Company in Japan
When you are job hunting one thing that you will no doubt do is research about a company. It might be the company that you are applying to, its competitors or just somewhere you have an interest in. For anyone new to job hunting this entire process can seem rather daunting, even more so for a Japanese company as much of the material and resources will be in Japanese.
What is even crazier is that if you are going to a job fair such as the Boston Career Forum, then there is a chance you will be applying to 10s of companies. That is a whole lotta research!
However there are many sites and steps you can use to simplify the entire process. Trying to think of a good Kibō dōki (reason for applying)? How about reading exactly what the guys put down that got hired, sounds like some pretty juicy info eh. Not too sure if you will fit in the company and if there is a lot of Zangyō (overtime)? All this information, as well as a companies values, strategy and its entire recruitment process can be easily found on-line if you know where to look.
So far all you job hunting wanna be workers out there I am going to introduce my top sites and own personal method of how I do research on a company. Use it, improve it, ignore it, I don't mind, but hopefully it will help a few of you out there! Either way it worked for me!

Company Website
I mean come on! This is guna be where you get the BEST information. It is written by the company and it will clearly state its values, direction, expectations and hopefully a little bit of insight into who are the kind of people that work there. The only problem might be that there is too much information. It can see pretty daunting to filter through the mountains of text often found on these websites. That is why the main sections you want to focus on are:
会社情報・会社案内 (会社概要、企業理念・経営理念、長期方針)
Kaisha jōhō・kaisha annai (kaisha gaiyō, kigyō rinen・keiei rinen, chōki hōshin)
Company Information/Introduction to the Company (Company Outline, Company Policy/Management Policy, Long Term Strategy)
採用情報(先輩の声、就職紹介、採用の流れ)
Saiyō jōhō (senpai no koe, shūshoku shōkai, saiyō no nagare)
Employment Information (Voice of Senior Employees, Introduction of Work, Employment Process)
The above is the 20% of the website that is going to give you 80% of the killer information you need and are going to use. Good old Pareto Principle.
Copy the above information into something like evernote (highly recommended), so that it is easy to read and manage, then go picking out that juicy key information. If you want to be retro, print it out and hit that thing with a highlighter pen.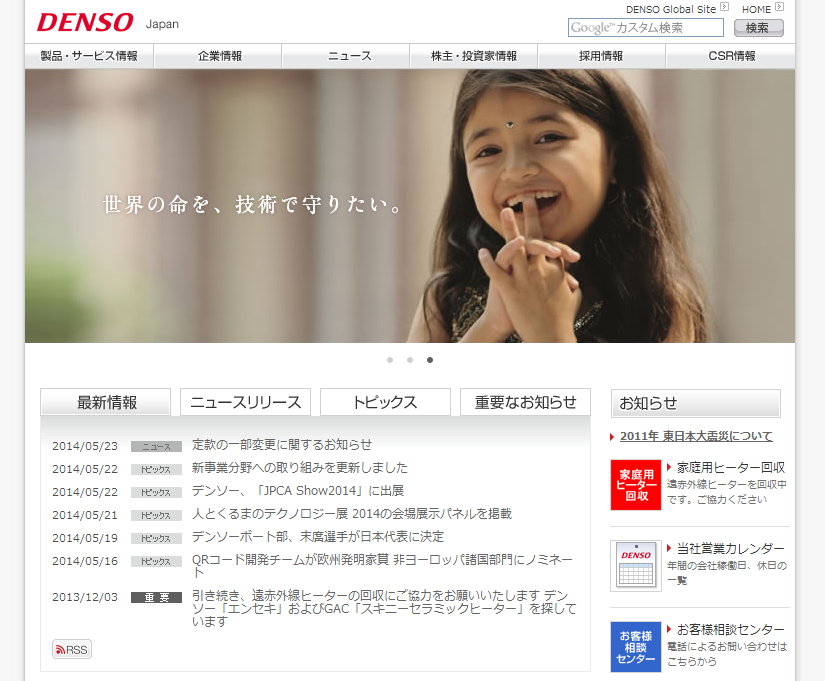 Example of a typical Japanese company homepage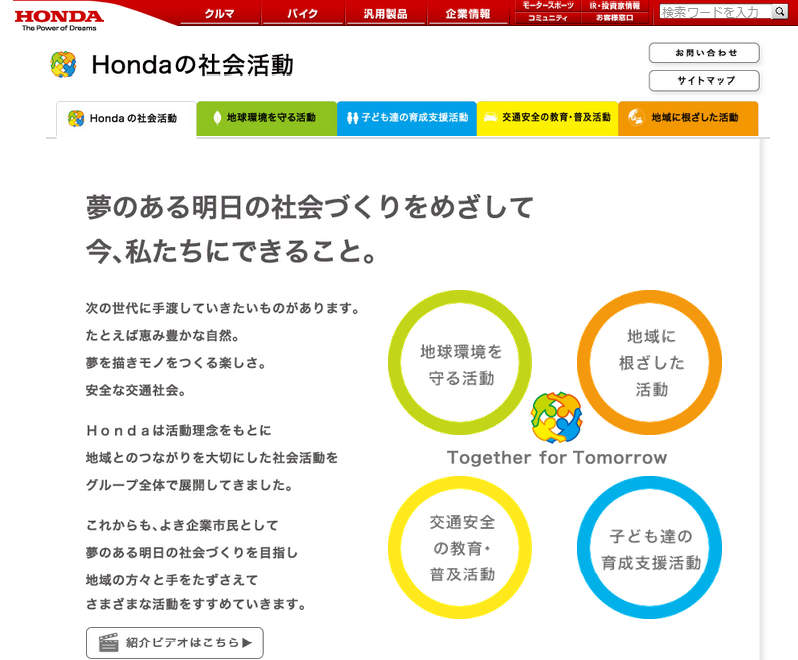 The kigyō rinen is the heart of any company. It will summarize the entire values, philosophy and direction of the company into concise, easy to understand points.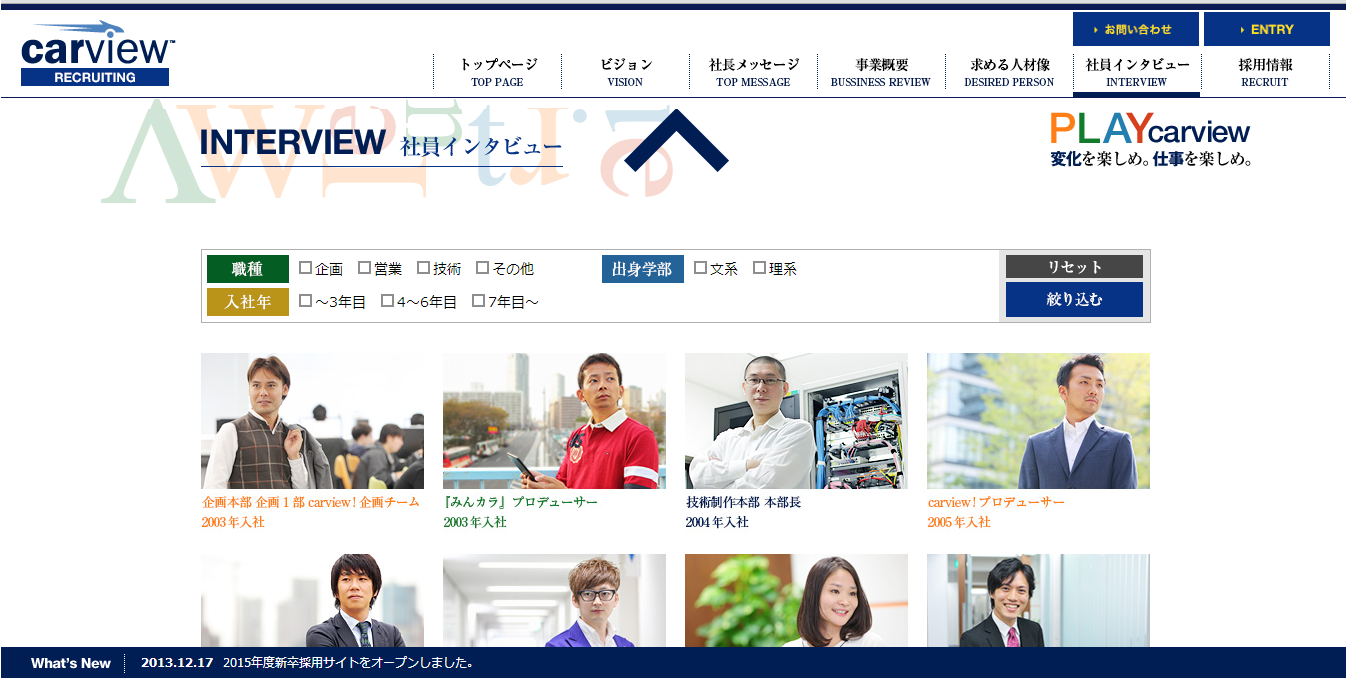 A company is made up of the people who work there. Find out more about them after all these may be your future colleagues!
Recruitment Sites
My personal favorite is rikunabi. Not only does this awesome piece of internet heaven tell you about upcoming job fairs, job hunting tips but it will also give you great summaries on companies. Essentially it will be like a watered down version of their full website. Telling you the main information that the company wants the applicant to know.
All the key points that you filtered out from going through the company homepage will no doubt be found here. If exact phrases and words are re-used time and time again from the homepage, then you can safely bet that this is some information or value that the company finds important.
While it doesn't have the same level of substance as the company site it is still a valuable resource and great to re-read over just before doing an interview or meeting a company. I also like to use these pages when I am thinking of applying to a company for the first time and trying to figure out what they're all about. It can be a lot more time efficient to blaze through a page like this then spending ages reading an entire company site just to figure out if it seems like a company that you would enjoy working at.
All the key information you need in a nice bite size friendly form!
Job Hunting Diary Site
This Shūshoku katsudō nikki site is golden. I found it mid-way during my job hunting experience and it was just like discovering the spork for the first time. It was efficient and kinda made me feel like I was cheating in some way.
Essentially it is a website where all the people who have been given a job offer or currently doing job hunting write about what they wrote, said when they applied and overall experience. They will also go through in detail what you can expect from the recruitment process. Everything efficiently sorted by company name.
Essentially they are giving you the ingredients you need to get into that company. For those that got an offer the company obviously liked what they had to say and how they said it. Study this website well.
The only thing I would be careful of is trying to completely 'copy' anyone or find the 'perfect' Kibō dōki (reason for applying) etc. This site is great for getting a feel of how others got into the company and qualities that are sought after, but don't think it was just because they said ABC that they were eventually hired.It is also about a person's personality, desire and values that a company looks for. So there will be a big spectrum of reasons for applying and some that you will be able to relate to and others not. Don't copy someone just because their reason sounds good if you can't relate to it because it isn't really why YOU are applying and the company will no doubt see through it.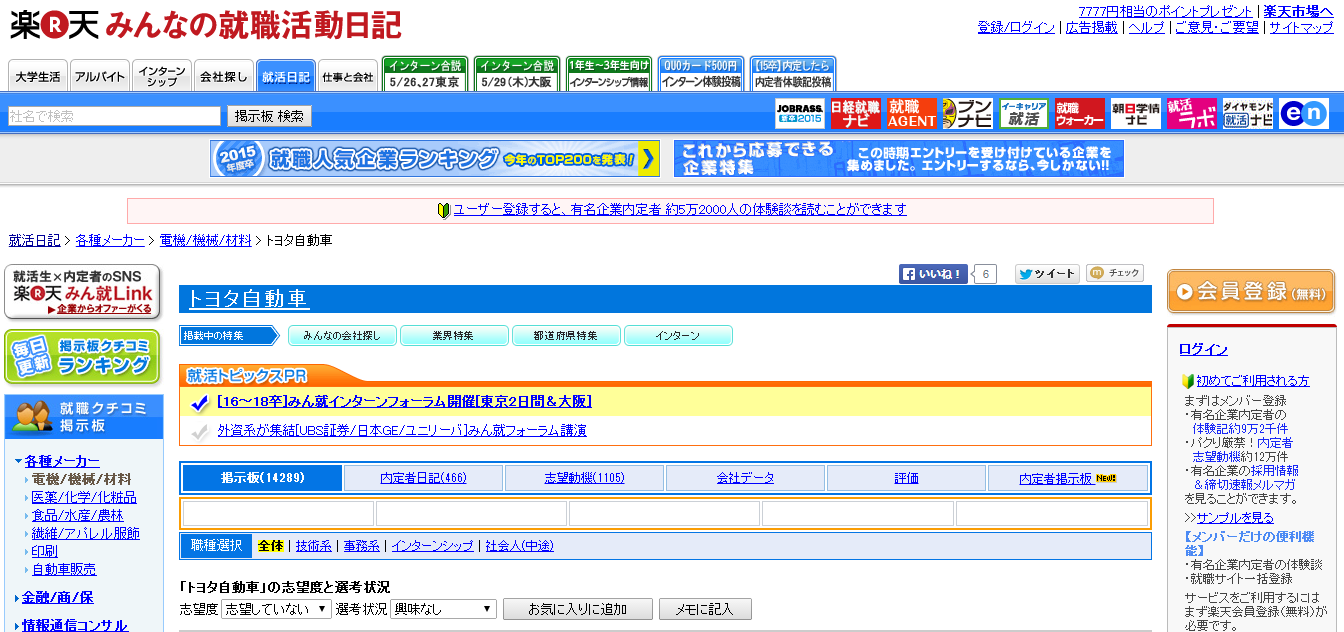 Sometimes the best information and resources come not from the company but the candidates themselves!
Career Change Site
So we haven't even got a job yet but using a tenshoku site (Career change Site)?! Why yes we are. While the other above sites will tell you a lot about the company over all, tenshoku sites tend to be a lot more to the point and tell you about the actual company as a place to work.
Let's be honest, if someone is looking to change jobs they are not happy with where they are now. They want to know if the company there are moving to is an easy place to work, if there is a lot of overtime, the ratio of young/old people etc. Very specific information. However if we are looking for our first job, then this kind of information is important for figuring out what we are getting ourselves in for also.
Usually you will be presented a very picturesque image of the company during job hunting. They want to acquire new talent and so are no doubt going to sugar coat a lot of things. "Overtime?!" "Obviously there is some but nothing compared to other companies" -> Reality expect 40 hours a week (seems they were comparing themselves to some of the famous Burakku kigyō (company that exploits workers)).
The above site will tell you everything you could want to know and more. There's HOW MANY ikemen (cool guys) in this company?!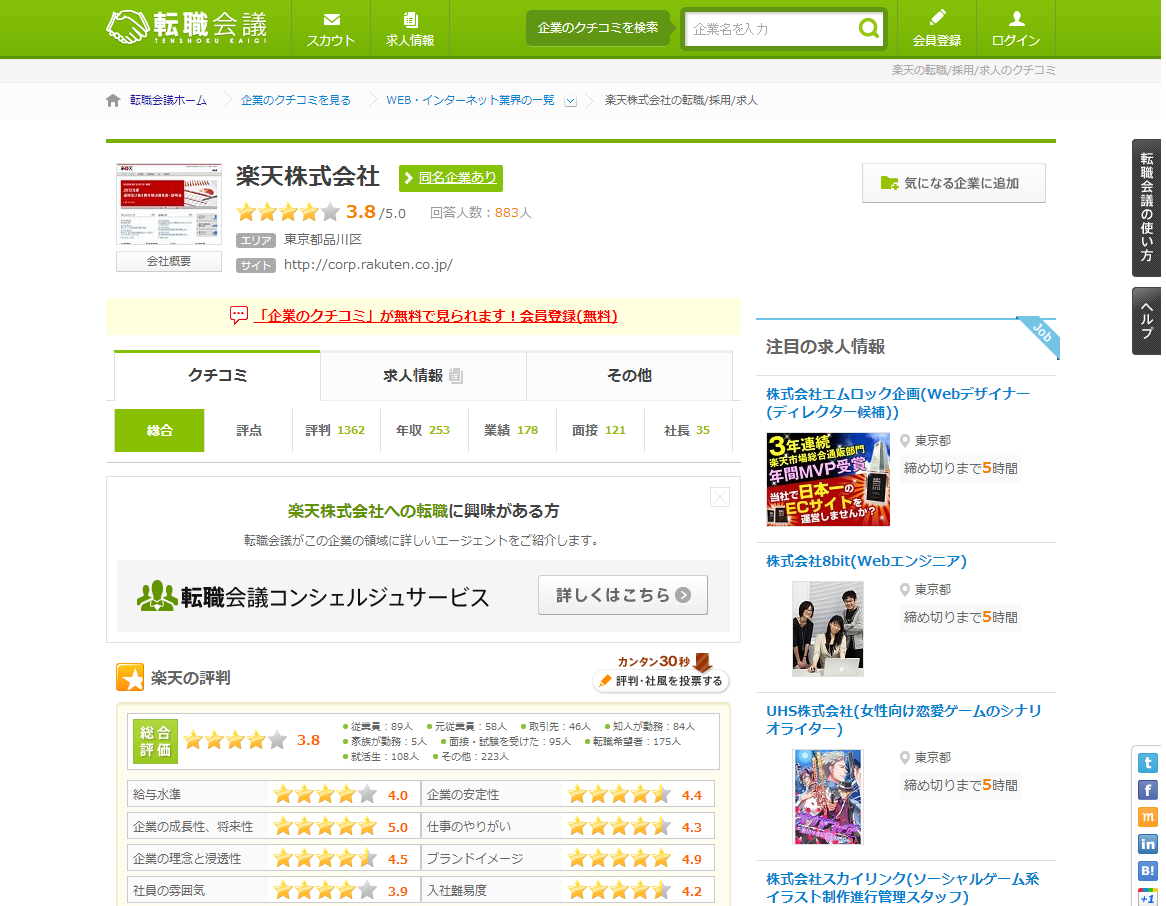 The general rating breaks everything down into the same categories. Ranging from 'Wage', 'Future Direction' and even 'How Easy to get into the Company'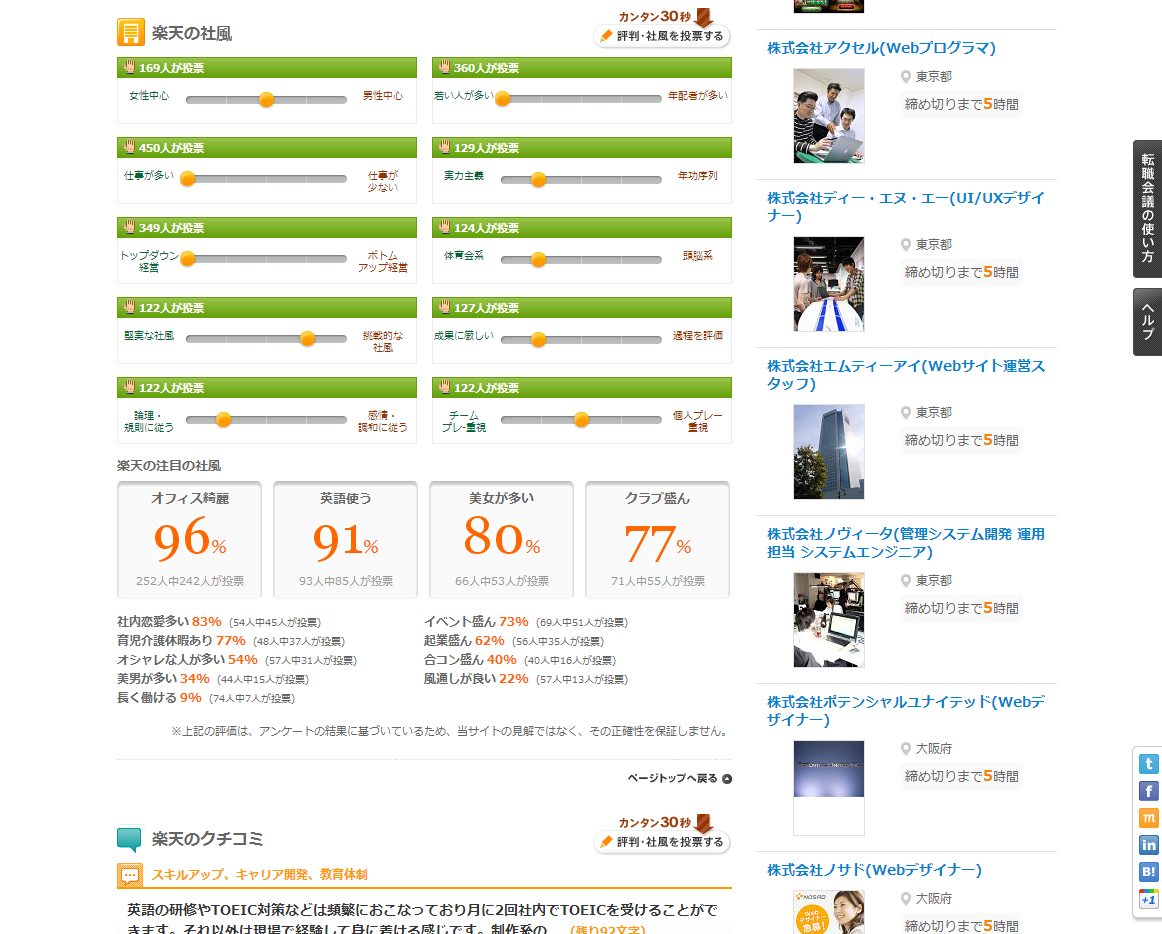 You can even get more specific information such as ratio to male/females, typical amounts of work, the % of fashionable people and % of good looking males/females! This is statistics at its best!
Summary
Wow, 4 sites…..that's it?! Why it is indeed. While there are HUNDREDS of other site that you can (and should if you feel the need) get more information from (Wikipedia to new sites), it is the above 4 that I used the most during my own job hunting.
If anything the most important aspect is actually analyzing the information that is collected. Looking for reoccurring key themes, words etc. You want to get a real FEEL for the company and I think the 4 sites above will tell you everything you need to know.
My method would be to copy ALL this information into one evernote note, going through highlighting and underlining the key information. It would be one SUPER BADASS note, containing everything that I needed to know about the company. I could then use that study from and not have to wade into the dangerous attention grabbing waters of the internet….just guna do some research, but first a QUICK glance on FB for a sec….(1 hour later)….oh god, what have I done?!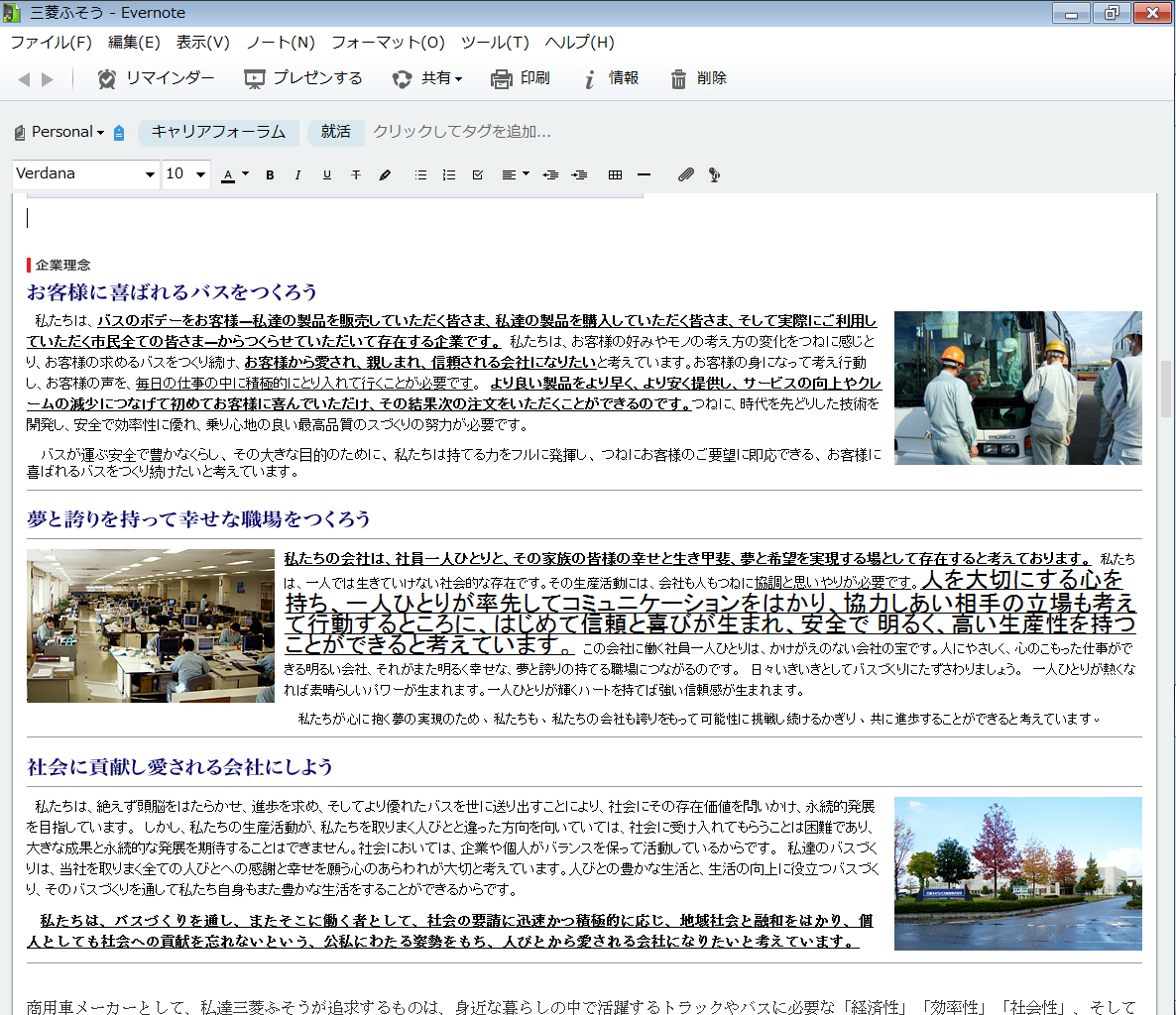 An example of how I would filter through text from websites in evernote. Picking out what I felt to be the key messages and phrases from the company.
All in all researching companies is a pain in the ass. It takes time and you could probably be doing much more interesting things, but it is ESSENTIAL. Also like my good friend Mr. Arnold Schwarzenegger says, you wanna get far, then there is no substitute for hard work so work your butt off. After all, if you are thinking of working for a company and giving it your most important assets (time and energy) you are going to want to make sure that you are going somewhere that has the same values you have.
Happy researching! If you have any questions or want to tell me about your own favorite websites for getting information on companies or job hunting in general, let me know in the comments below.